Hi! I'm Grace Senn, Founder and Co-Owner of Camp Grace. I have always had a love for dogs and a desire to work with them. I will never forget being five years old and meeting my "Lassie" for the first time. She was a Collie/Airedale terrier mix. I lived in Scotland and when I picked her up and held her for the first time, I knew in that instant my life had to revolve around animals, dogs in particular. Lassie was my best friend, my confidant and my shoulder to cry on. She came with us when we moved to Houston and later to Oklahoma. I had her for 12 wonderful years. July 4, 1987, we had to let her go. My heart still has a hole for her to this day.
I began working with dogs at age 11 volunteering with a country vet in Scotland. I will never forget those times or everything I learned. It's confirmed caring for animals was what I was born to do. After moving to Houston, I began working for a grooming and boarding facility. I took care of the dogs and began bathing them and clipping nails. In 1984 when we moved to Oklahoma, I went out looking for a job. I applied for a job at a vet office and also at a pet store/grooming shop. Only two applications, that's all I put in. That night I got a call back from Canine Corner and was hired to start that Monday - it was the summer of 1985.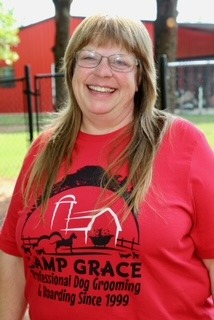 In 1996, I had finally come to a place where my dreams to own a pet grooming shop were within my grasp. That's the year I purchased Canine Corner - a well established grooming and boarding business in Edmond, OK & the same place I had worked all those years! I was so excited...
Within a few months of my purchasing Canine Corner, PetSmart broke ground on a new store less than a mile down Broadway from me. Struggling to compete with the big box store I relocated to a smaller space - but to no avail. On June 30, 1999 I was forced to close Canine Corner. I was heartbroken - but determined.
After the closing of the pet store, I took a full-time job at a tropical fish wholesaler to pay the bills. Since I lived a little outside of town, I decided the only way for me to continue to do what I loved (working with dogs) was to pick up and deliver dogs in my van. I brought 13 clientsdogs from Canine Corner (out of the hundreds of clients and the "kids"). I began picking up, grooming and dropping off on Fridays as it was my only day off from the fish store! I worked with a groomer from Canine Corner who continued to teach me the finer skills of grooming. She remained with me a few years and within 18 months I was able to quit my job selling fish and become a full-time groomer! I never advertised; we accomplished all this through word of mouth only!
Over the years, I began receiving requests to babysit some of my client's "kids" (that's how I have always referred to my client's doggies!). I started sitting more and more "kids," so much so that I began to run out of space! This is when I started building the idea of a "Bunkhouse" facility. About a year ago and after 19 years of hard work, I was able to begin turning that dream into a reality.
July 13, 2023 will be the 24th anniversary of the first day I used my van to go pick up a dog to groom - the beginning of CAMP GRACE. I am so excited to be able to not only expand my facilities with the opening of the new BUNKHOUSE, but to expand my team as well. Not to worry, I will always be present and available to you my dear clients. I am so thankful to you my clients and I take great pride in caring for your fur babies with as much love and care as I give my own. Thank you for your continued trust in me and our team
Of course I could do none of this without our fantastic team. Read more about them below!

OUR CO-OWNER, CFO & CAMP MANAGER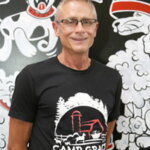 Brad Douglas is our Bunkouse and Grounds Manager. He gives his all to Camp Grace and all of our doggie guests absolutely love him! It is not uncommon to look out and see Brad rolling around and playing in the yard with the pups. When he's not doing that he stays busy keeping the property clean and beautiful.